Welcome To National Cranes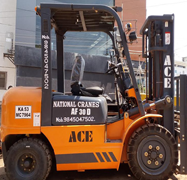 National Cranes is one of the prominent service provider engaged in hiring of any types of Cranes located at Bangalore in Karnataka, India. We also deal with all types of handling equipment like loading & unloading, erection, dis-handling and forecleads. Our rental services are widely appreciated for their promptness, reliability, flexibility, timely execution etc. We render our services all over India.

Our Service :
National Cranes are engaged in hiring wide range of Cranes which includes Hydra Cranes and Telescoping Crane. We lay utmost emphasis on maintaining high quality standard. The cranes that we provide are well maintained and known for their smooth operation, efficiency and cost effective.